Kearney Trecker
Kearney Trecker Machinery Parts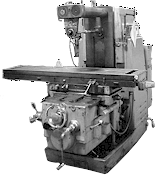 In stock are many Kearney Trecker Machine Parts, stock can ship immediately, manufacturing or locating replacement parts can be accomplished with very short lead times. Many replacement parts in stock and available for shipment, contact us today.
Contact us today for all of your Kearney Trecker Machinery Parts!
Contact
Kearney Trecker Services
We stock a wide variety of Kearney Trecker Machinery replacement parts available for shipment, new, used, remanufactured, and the ability to manufacture most replacement parts. Short lead times and attention to your needs help minimize down time and get your Kearney Trecker machine up and running again.